About the Department
The department is administratively under the College of Arts and Sciences; its offices are located in Tyler Hall. It currently has a staff of full-time faculty members and several per course instructors possessing practical experience and strong pedagogical skills to supplement the permanent faculty. The University is committed to increasing the size of the department in important and timely areas such as computational statistics, machine learning, and Cybersecurity. This will enable the department to expand capacity for educational programs, intensify research and scholarship, and continue with important outreach efforts.
The Department of Computer Science and Statistics was established in 1967, making it the first formal department of computer science in New England. The M.S. program in computer science was approved in 1968; the M.S. program in statistics followed a year later; the first degrees were conferred in 1970. The department instituted an undergraduate Computer Science program in 1975, and demand for the program has been very high. A Ph.D. in applied mathematical sciences was created in 1980, and the first Ph.D. was awarded in 1982. Today we offer the following programs:
Computer Science – BA, BS, MS, PhD
Statistics – MS
Data Science – BA, BS
Cybersecurity – Minor, Graduate Certificate, and Professional MS
Digital Forensics – Minor and Graduate Certificate
The department is now moving in several interdisciplinary directions. The department has strong representation in a new computational statistics and machine learning working group; and is participating in a multi-college Big Data, HPC (high performance computing), and Computational Science initiative. Many of us have partnered with and consulted for colleagues in other disciplines, including Art, Biology, Chemistry, Engineering, and Environmental Science. We look forward to strengthening our research, education, and outreach in multiple dimensions in the future.
Main
Teaching Lab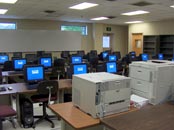 This is our main teaching lab for Computer Science courses. It consists of 30 workstations along with additional seating for students using personal laptops. Each lab computer can start up either as Windows or Linux, and is equipped with a variety of software aimed at supporting students in their projects. The lab also has a number of seating locations available for students to bring personal laptops for use on projects and labs. All workstation and laptop stations have a wide work area so that students have to opportunity spread out their notes and work comfortably. This lab is equipped with a state-of-the-art integrated lectern, projection and audio system.
Champlin Interactive 3D Lab
Within this complex is the 3D Graphics Lab which was made possible by a grant from the Champlin Foundation. This facility is designed specifically for use in the development and teaching of Interactive 3D Graphics. The lab is used jointly by the Computer Science department to train artists, graphics programmers, and researchers (some students are all three!).
This lab consists of 24 Macintosh computers. It is predominantly used for 3-dimensional modeling and graphics work. These computers have advanced 3D modeling software including up-to-date versions of both Maya 10 and Mudbox, as well as several other software packages. Digitizers are also provided at most stations so that students may become familiar with industry standard tools. The lab is also complemented with dual projection screens to meet the dynamic needs of different presenters.
The University
The University of Rhode Island is a medium-sized state university located in the southern part of Rhode Island. It has been a land-grant school since its founding in 1892. In part because of its unique location near the Ocean and Narragansett Bay, the University has developed strong marine programs and has been designated one of the national Sea Grant colleges.
The University enrolls about 12,000 students on its Kingston campus, and another 3,000 in credit courses throughout the state. There are about 10,250 undergraduate students, about 3,125 graduate students, and has a full-time teaching faculty of about 665. Approximately 950 graduate students are in full-time residence.
Computing Facilities
In the fall of 2009, the Computer Science Department opened its new Computer Science Lab Complex. The Complex has two large computer classrooms, two meeting rooms and comfortable student lounge area. Here, students have WiFi access to the URI network and the Internet. The complex is also equipped with many extra power outlets in the labs, meeting rooms and lounge area to encourage students and faculty to bring their own laptops to work on problems together, communicate and connect.
Student Lounge
Outside of the lab is a large, open lounge area for students to work quietly between classes. We have a Wi-Fi access point for students using laptops, as well as an ample amount of power outlets. In addition to the free Wifi for CS students, there are also two white boards for people to use during discussions. The lounge area has a brand new, efficient system to keep the air temperature well controlled over the cold winter moths as well as during the hot summers.
Nearby is a large, new conference room that seats fourteen and allows for a projector hook-up to a laptop. It is well set up for conferences and presentations.
Digital Forensics Center and Cyber Security Center (DFCSC)

The DFCSC has a lab of forensic computers ready for training law enforcement officers and computer forensic students. Additionally, the DFCSC maintains at least 4 forensic equipped computers ready to be used on active cases. The DFCSC lab space is re-configurable to seat up to 14 interns and students at once. The dedicated analysis laboratory is equipped with all of the most current commercial forensic tools and applications.
Location
The main campus of the University is located in the quiet historical village of Kingston, thirty miles south of Providence and six miles from the ocean. At the center of this spacious campus is a quadrangle of handsome old granite buildings surrounded by newer academic buildings, student residence halls, and fraternity and sorority houses. On the plain below Kingston Hill are gymnasiums, athletic fields, tennis courts, a fresh water pond, agricultural fields, and greenhouses.
Southern Rhode Island is a scenic area known for its magnificent beaches and ocean-related sports and industry. Swimming, boating, fishing, arts and craft fairs, and outdoor theater make it a popular vacation spot during the summer months. The seaport resort of Newport is less than a half-hour's drive from campus. The state is host to many cultural events and organizations including concerts, theaters, museums, and art galleries. Boston, New York, Cape Cod, and the northern New England mountains are easily accessible.