Department of Computer Science and Statistics
Why study URI Computer Science?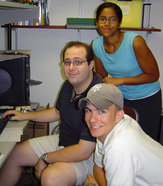 Faculty and students in our department are currently witness to many new and exciting changes within course curriculum, research community and facilities.
Our excellent Undergraduate and Graduate curricula meets the needs of our vibrant research community held right within our facilities to provide real-life learning experience.
We conduct leading-edge research in bioinformatics, machine learning and data-mining, real-time distributed objects, sensor networks, digital forensics, and interactive 3D graphics with dedicated faculty members experienced in teaching with strong research experience in traditional and emerging areas of computer science and statistics.
Also, students majoring in Computer Science at URI have the opportunity to participate in the International Computer Science Program (ICSP), an adjunct to the University's well-known and successful International Engineering Program (IEP).  To learn more click here.
For more information, read the letter from the Computer Science Department Chair to prospective students which can be found here.
To read interviews with graduated Computer Science students, please check this link – "Making It Real".
Undergraduate Concentrations
Our undergraduate degree program offers four tracks or areas of emphasis to guide students in selecting courses:
Undergraduate Minors
Spotlight – Jake Tobak Jake Tobak is a local student, from Newport and is currently a senior in URI's Computer Science Bachelor of Science program, as well as completing a double major in Applied Math. Jake chose Computer Science because he knew while he would always be able to earn a comfortable living, he would know it would be ... Click here to read more.